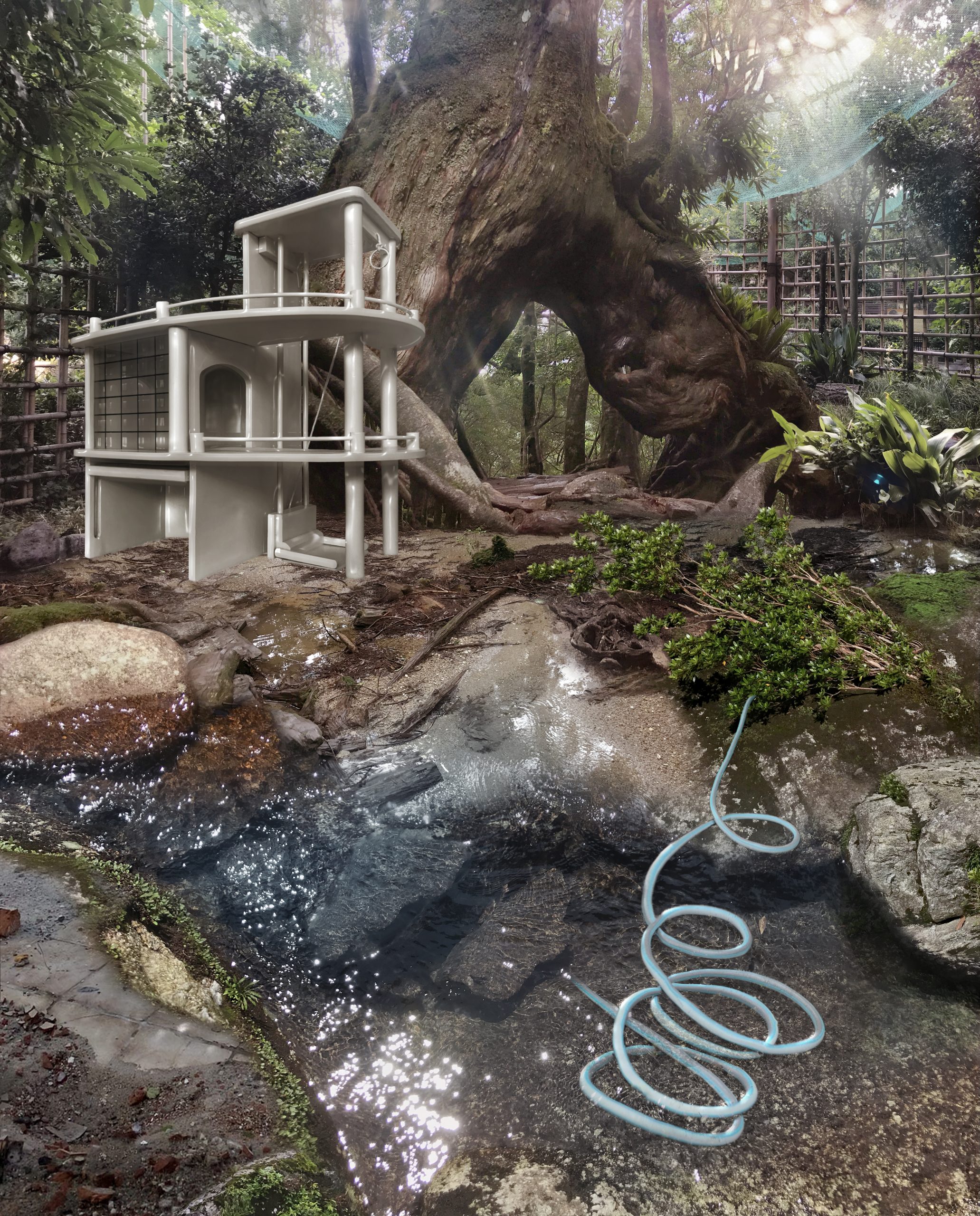 upsammy + Sjoerd Martens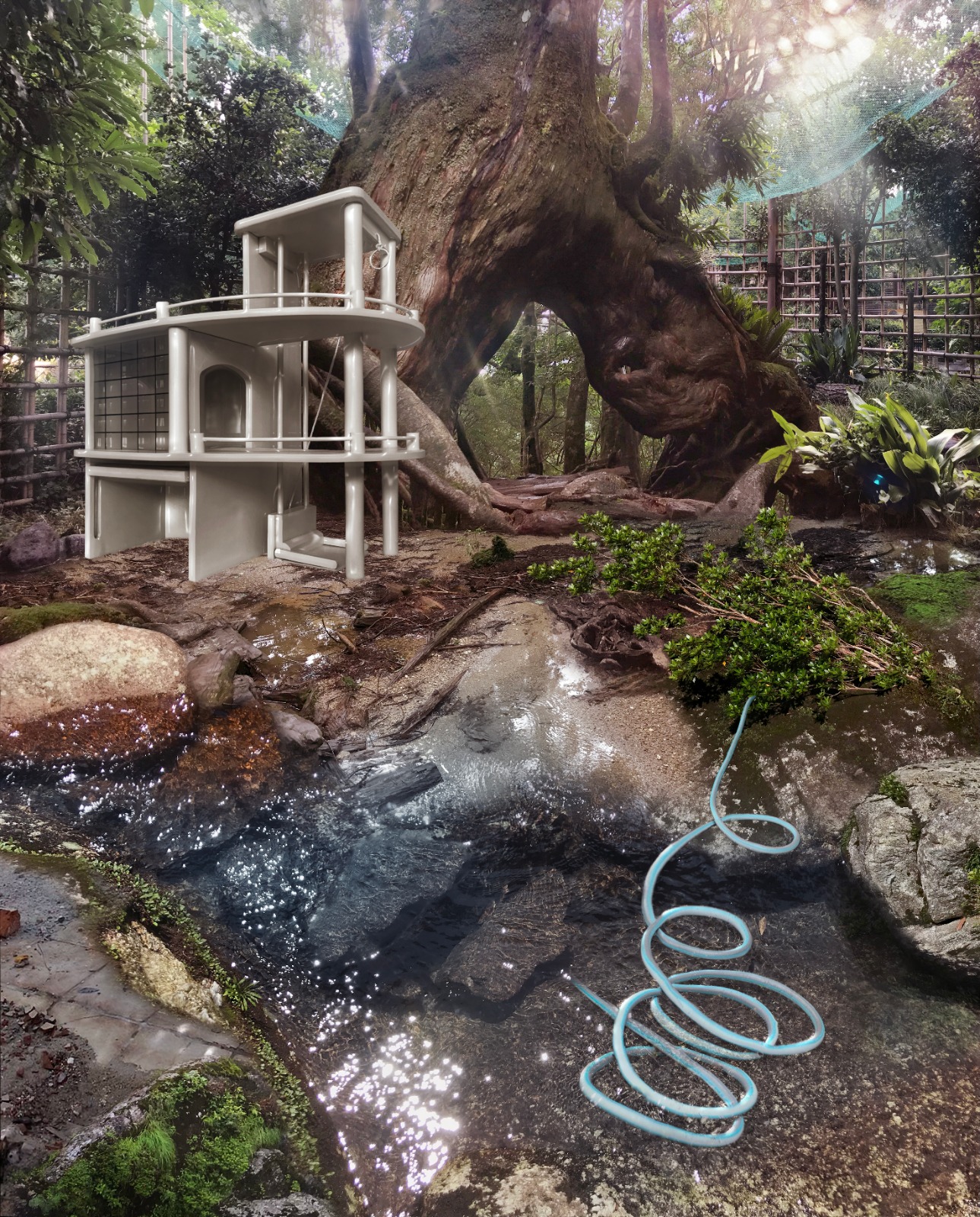 a little word
Thessa Torsing aka upsammy and Sjoerd Martens both explore the boundaries of acoustic and electronic in their work. By taking elements from the acoustic or natural world and processing them digitally, a distorted reality is created. 'Birds Sing Like The Horn Of A Truck'; a digital collage of the analog world.
upsammy: The overall concept is about a remixed environment I would say, critically analysing the one we are in right now. Sjoerds work contains a lot of interesting textures; little intricate environments are sculpted together in a big one. The contrast between the 'natural' objects and the more 'plastic' objects feels utopian and dystopian at the same time. This is very interesting to me: it creates some kind of comfort in discomfort and destructiveness.
While working together on this project, we were able to link each other's practices freely, looking at each other's way of working and choosing what part you would like to incorporate in your own process. What I like about Sjoerds work is that it's very detailed and precise. He (re)constructs environments in his work using source material from different places. This is something that can also be found in my work, where I use samples from the outside world to create a new one in music.
We started working by taking a walk through Amstelpark together, talking about our process and making audio recordings and photos. We started from the same place and then we had our own process with the source material separately. After some days we checked in and looked at and listened to what we both had made. Certain contrasts and similarities came to light and we started to work more towards each other.
I started working with a toy glockenspiel and a VST one, creating some sort of conversation between the digital and acoustic. On top of a layer of sub (generated from highway noise) I layered a rhythm of leaves and branches breaking. I almost did not use chords but mostly combinations of two notes, this felt nice for the project since it's called 'Duotoon'.
Sjoerd Martens: Thessa and I have known each other for some time. In this time that could be considered uncertain, this project gave us the opportunity to start research the relationship between the two of us, our natural environment, and the reflections through two different mediums. In an organic process in which the natural environment is recorded, dissected, modified, and reconnected, it carries a new home. It is a reflection in which sound reveals itself in images, and the image reveals itself in sound but over and above, continues to encourage each other. Also, it gives a new shape as an alternative for the traditional album cover, so it doesn't disappear between the usual record collection.
On both sides of our process, we have experienced the same increasing almost parallel development. Featuring that we do not criticise nor complement each other but let actions influence each other. We attach a high value to self-development within our processes. In some phases of the process, it is necessary to disengage, but at the other moment, you cannot do without each other. The beauty in this new work is that one does not exist without the other. For instance, the use of the glockenspiel and the pearlescent garage do not come out of the blue. The direct printing technique on aluminum makes the piece sculpture of our legacy, which in turn stems from the strong metal melody of the glockenspiel. I see it as a form of communication in the relationship between different elements in development.
The project 'Birds Sing Like The Horn Of A Truck' tests an expedition through various transformations in both analog and digital landscape. In this way, we discover the fertility of unharmed textures, pure natural colours, the serenity in harmony with remnants of artefacts, abandoned footprints, and interruptions. Both image and sound are composed of dozens of samples. These merge as a community that questions the manufacturability of our nature.
the making of
Shop
Details about the work
Print type: Printed directly on dibond
Dimensions: 40 x 32 cm
Edition: 25 prints, signed and numbered by the artist
Including wall frame
Comes with a cassette tape with the full recording of 'Birds Sing Like The Horn Of A Truck' on both sides, including a download code.
Delivery: The artwork can be shipped to an address of your choice or can be picked up at Rokin 75, 1012 KL, Amsterdam, The Netherlands.
€175,00